The COVID-19 crisis that has gripped Canada and the world has led to hundreds of thousands of layoffs and shutdowns in an already weakened economy. Experts predict the jobs losses will be in the millions as countries head into a global recession this year.
As the economy takes a turn for the worst, it is the most vulnerable members of society –the poor and homeless, the gig and frontline workers— who will suffer. The crisis has highlighted shortcomings in our infrastructure that leave populations susceptible. Governments now have the extraordinary opportunity to bolster fiscal policies to help Canadians get past the COVID-19 crisis and strengthen our country's resiliency to future threats.
Here are some highlights:
Federal government announces $27B in fiscal aid measures:
Canada this week announced a package of economic measures to help workers and employers through the devastating impacts of COVID-19.
Read our analysis of the government's actions, which include introducing emergency support benefits, enhancing existing benefits, and deferring tax filing and student loan repayment deadlines. While this is a good start, it will need to go much further and include action from the provinces such as extending job protections for workers and ending rental evictions, as some experts have suggested.
Canada's response reveals severe shortcomings with our current EI program and overall economic structure. The government should make many of these emergency reforms permanent to protect workers who are not adequately covered.
Other levels of government, including provinces and municipalities, will also need to step up to provide more resources to address this crisis.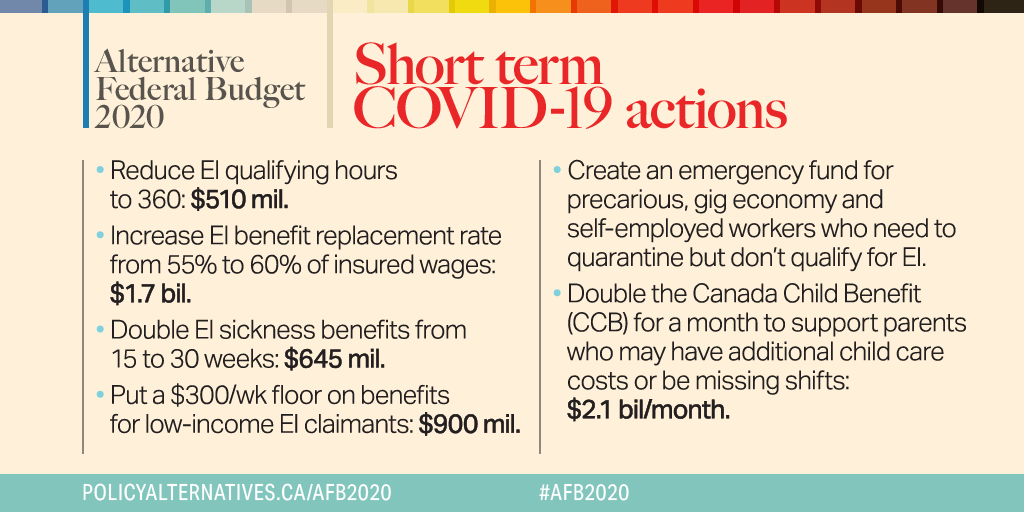 This year's Alternative Federal Budget includes a preface on the Covid-19 situation and a chapter by Canadians for Tax Fairness on the role fair taxation can play to strengthen the economy post-crisis. 
Alternative Federal Budget 2020 proposes short and long-term actions to combat effects of pandemic:
Earlier this week, the Canadian Centre for Policy Alternatives released its annual Alternative Federal Budget , which included recommendations to support workplaces and households in a quickly escalating global pandemic.
Immediately reducing working hour requirements for EI, followed by more medium-term measures such as a 'Dignity Dividend' to help lower-income families could help Canadians through the emergency, the AFB suggests.
Canadians for Tax Fairness contributed a chapter to the 2020 AFB on how progressive reforms to the tax system can raise the revenues to fund important investments such as a Just Transition, affordable childcare and a national pharmacare program.
While the chapter was written before the COVID-19 outbreak, its recommendations will become increasingly relevant over the next year. Once Canada recovers, it will need to pay for these substantial emergency supports. It can do this by making the tax system fairer.
Read our synopsis of the AFB here.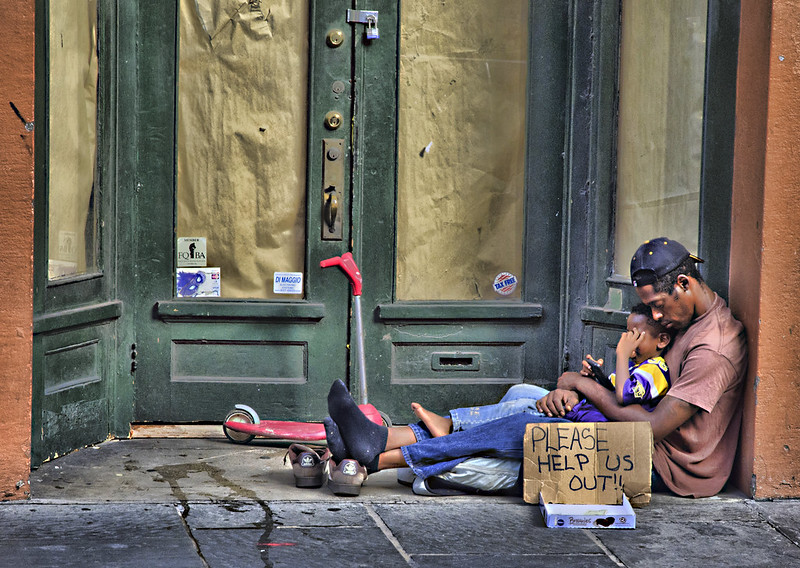 Existing inequalities are exacerbated during health and economic crises. Peter Clark, flickr
As a worsening pandemic highlights inequality, advocates seek out solutions:
The AFB is just one example of non-profits stepping up to offer progressive solutions to the unprecedented challenges facing governments.
A recent study by the Institute on Taxation and Economic Policy in the U.S. showed that President Trump's proposed COVID-19 payroll tax cut would cost US$843 billion with 65% of benefits going to the richest 20% of taxpayers.
Instead the group detailed five measures the government could immediately take to improve the country's fight against COVID-19 and prevent people from dying -- pressure that seems to have persuaded the President to put the tax cut on hold.
In the UK, a network of academics, politicians and advocates launched a petition for governments around the world to implement a basic personal income in order to save lives in the pandemic.
Here in Canada, economists and opinion writers have highlighted how the pandemic has underlined Canada's class divide and what government can do to protect workers in turbulent times. Some have pointed out that these converging crises pose an opportunity for government to forge a Green New Deal and argued that now is the time for Canada to go big and go fast.
Several organizations are running petitions to protect vulnerable Canadians, including this petition from Fight for $15 and Fairness to allow 21 emergency paid leave days for all workers and this petition from the Broadbent Institute to improve EI benefits during the pandemic and indefinitely going forward.
Sign up here to receive our monthly newsletter. 
English