Tax fairness will be a key issue in the federal election. We've worked to make that happen. 
Now for the next step.
Help us Orgnanize a Vote for  

Let's make sure Canadian voters are informed about tax issues.  With your help we can bust some myths about tax cuts, expose revenue losses due to tax havens and  tax loopholes and present tax fairness as a positive alternative.
Wisely spent, tax revenues are a powerful nation-builder. But if multinationals and the wealthy are allowed to scam the system then we lose billions of dollars. That money belongs to healthcare, education, infrastructure and many other things that are Canada's strength. Canada cannot be fixed without more revenue.
Six ways to help:
1. Put up a Tax Fairness Billboard in Your Community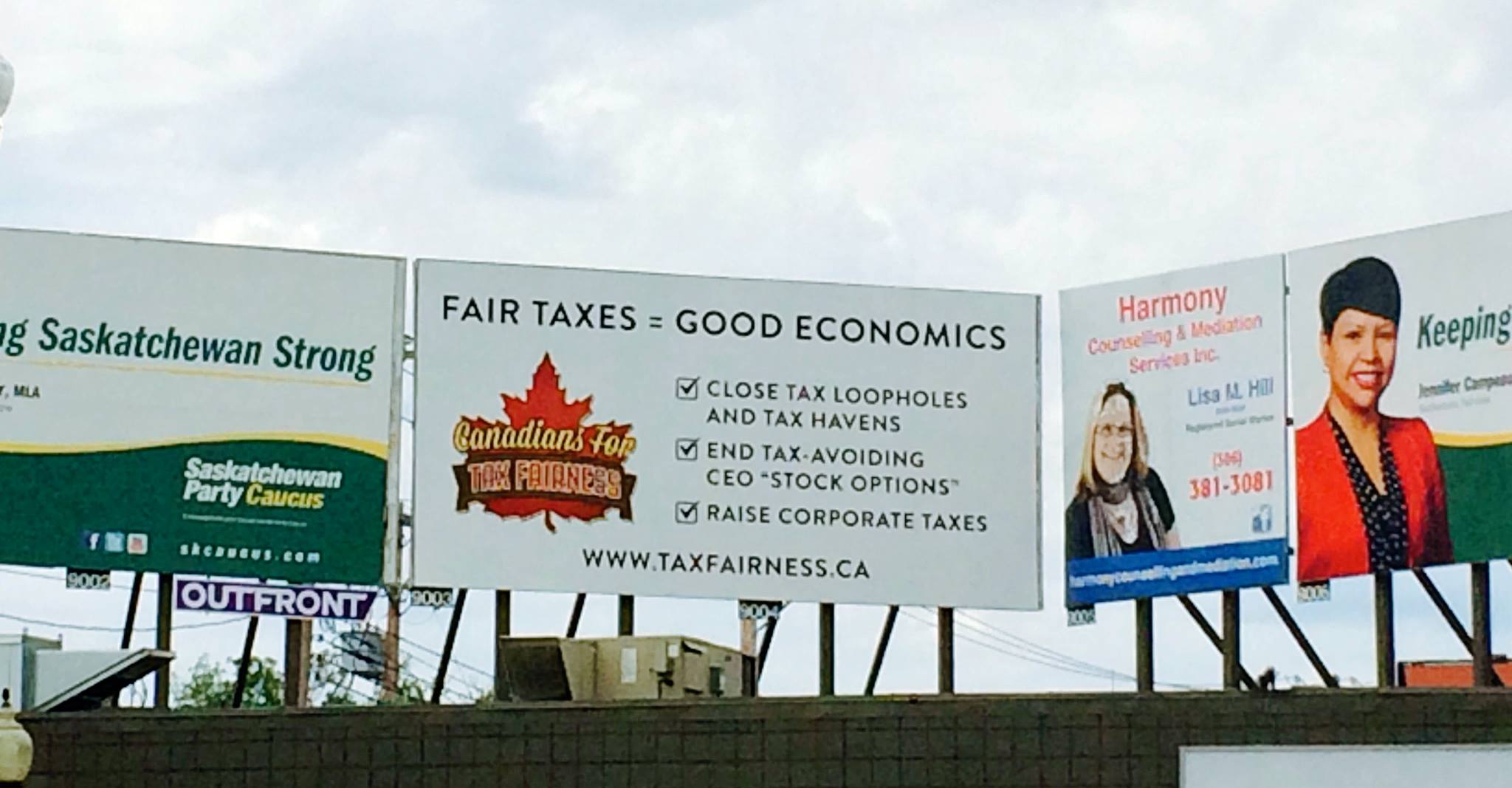 Saskatchewan Citizens for Tax Fairness erected this billboard on a Saskatoon street corner. Lots of people have noticed and it got media attention.
Straightforward. Cost-effective.
Combined with outreach to local media, it was a great way to get the tax fairness message out.
Can your community or local group get a small contribution from 50 people? Then you are on your way to some real action. Billboard rentals range from $1000 to $3000 per month.  Local unions could also be asked for a donation. Need more help? Contact us at office@taxfairness.ca.  Canadians for Tax Fairness can reach out to supporters in your area by e-mail. And the Saskatchewan group is happy to share their expertise in a teleconference.
Since the election writ has been dropped, your group will have to register as a third party advertiser with Elections Canada and keep within a spending limit of $4,560 per riding. It is not a difficult nor an onerous process. You will have to submit a report of expenses and donations received after the election. You can check the Elections Canada website for more information.
Canadians for Tax Fairness can supply the artwork needed for the billboards. You can choose from several different messages. And we can support you in media outreach efforts when the billboard goes up.  Here is one example of a billboard design we are working on. (Final version will have better design and graphics.)
2. Organize a Screening of The Price We Pay
We've negotiated a special rate of $200 for community screenings of the award-winning Canadian documentary film, The Price We Pay. It exposes how offshore tax havens are undermining the middle class. Montreal, Wolfville, Ottawa and Vancouver have had showings. Toronto and Halifax are next.  It is a great way to get people talking.
Your screening can be followed by a panel discussion where the Vote for Tax Fairness campaign can be promoted.  A representative from Canadians for Tax Fairness would be happy to participate, subject to time and travel limitations. The film's director, Harold Crooks, has also offered to do Skype interviews.
Many university lecture halls or high school auditoriums are equipped to screen films. Or revue cinemas in a number of communities are available for rent. While the latter may cost a bit more, they can often help to promote the screening and may be well worth it. It is best to select a venue that already has the projection equipment in place, as rentals can be expensive. The film is available in either Blu-ray or DCP (Digital Cinema Package) formats from the distributor FILMOPTION INTERNATIONAL We can arrange for a screening copy to be sent to you.
Canadians for Tax Fairness can provide an online ticketing service or you can sell tickets at the door. We encourage you to have a "pay what you can" policy to make this film accessible.
Here's more information including a trailer.
Artwork for posters is available. Canadians for Tax Fairness can also help to promote the film with targeted e-mails to our supporters in your community. Just send us the details and we will send a notice out.
3. Share Fact Sheets
Knowledge is power. Taxfairness.ca has one-page fact sheets on:
 Share them electronically with friends and family. Print out some copies and hand them out at meetings. Deliver them to your local candidates and urge them to commit to tax fairness policies.
4. Send a Letter to Your Newspaper
Our website features many opinion pieces and blogs. You can find them at: taxfairness.ca
Inspired by what they say? Use them as part of a letter to your local paper or in the comments section of your favorite online news page.
Here's a sample to get you going:
Dear Editor
I am not fooled by the Conservative government's tax cuts. Most of us lose. Only a few gain. The latest example is the dubious notion of doubling the annual contribution limit on TFSAs from $5,500 to $10,000.
Most of us can't afford to take full advantage of the existing TFSA program. So who does this tax cut benefit?  Families with incomes of over $200,000 a year hold a disproportionate share of all TFSA balances.
Like income splitting, this tax cut makes for good political one-liners and television ads but makes no economic sense. More worrisome than the political vote-buying is the impact this decision will have in decades to come. The cost of this program to the Federal Budget grows exponentially because it shelters interest income from tax. When it was introduced in 2009 it cost the government about $65 million. In 2013, $410-million in tax revenue was lost. Doubling contribution limits will be an economic time tomb. The federal/provincial tab in 2060 will be $22 billion. This threatens to undermine our public health care system.  By then, this fiasco won't be Stephen Harper's problem. But I don't want it to be my generation's legacy.
5. Send a Message to Party Leaders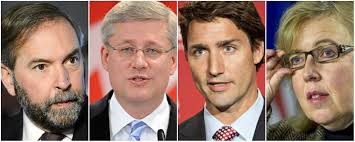 Send an email to party leaders asking them to commit to tax fairness policies in their election platforms. You can do this online at: taxfairness.ca/action/i-am-voting-tax-fairness
6. Donate
Please consider helping out with a small donation. You can donate online at: taxfairness.ca/donate We will use some of the funds raised to support local groups to put up Vote for Tax Fairness billboards.
We are a lean organization with a mission to help Canadians achieve tax fairness. It takes money to dig for information, work with community groups and publicize the issue everywhere we can – from Parliament Hill to local community halls across the country. We can change the way Canadians talk – and vote – about tax.    

Thanks for your support in whatever way you are able to help us make tax fairness a decisive issue in the upcoming election.    

Dennis Howlett
Executive Director